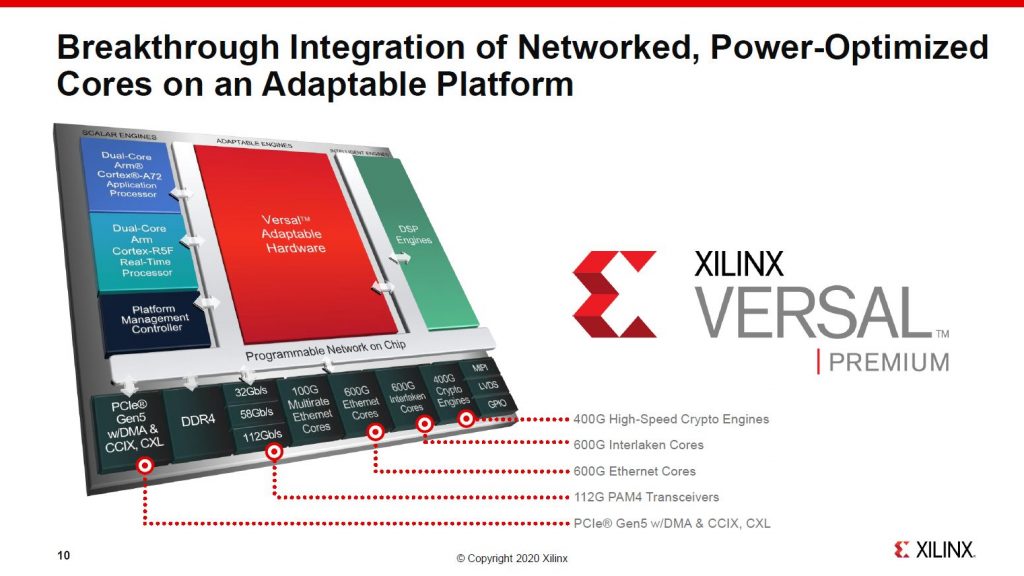 Designed for high bandwidth core and 5G tasks
Imagine an FPGA that can replace 22 currently shipping FPGA Adapters and provide a high bandwidth needed for the Internet and 5G demand of the future. That seems the best way to visualize Versal Premium as this is the product design to address the explosion of the data and bandwidth growth.
The new platform was supposed to be unveiled at the Open Compute Project OCP global summit, but like many others, it got canceled due to COVID 19 Coronavirus health concerns. OCP global summit is the best show to showcase the new advancement in the Core networks and many other parts of the IT.
Mike Thompson Senior Product Line Manager, High-End FPGAs & ACAPs at Xilinx helped us understand that OCP is the show where customers expect to see the new products and give them a chance to start working on implementing new technology and chips / ACAP products into their next-generation products. Core network industry certainly has a different pace of announcement and marketing from some other parts of the IT but it becomes clear where things will go in the near future.
The bandwidth is expected to increase dramatically, and the core network in the near future needs a redesign. If we talk numbers, data explosion is likely to bring to 100X area traffic capacity due to an increase in the use of smart devices, video streaming, IoT, and enterprise.
The Core network growth expects to surpass 8 billion dollars in 2024 and bring the 313 percent CAGR Forecast for 5G Core.
Versal Premium 7nm PCIe 5
Xilinx has come up with a new product line called Versal Premium designed to enable three times bandwidth for the fastest and most secured networks and two times compute density with adaptable acceleration. The product developed into a highly integrated software and hardware platform. Versal fits in the ACAP Adaptive compute acceleration platform and the Versal Premium products designed to solve the bandwidth and core network-related shortcomings.
The new Versal Premium comes with beefy Versal Adaptable engine, dual-core ARM A72s for application processing, dual-core Cortex R5 real-time processor, several DSP engines and bunch of network-specific IPs. Some of the more important ones are 400G Crypto engine support, 600G Interlaken cores, 600G Ethernet cores, 112 PAM4 transceivers.
The Versal Premium is representing a range of products, but they all share 7nm TSMC DNA as well as PCIe Gen 5 & CCIX with DMA.
Versal Premium ACAP VP1802 as the biggest device in the Versal Premium line delivers processing equivalent to 22 16nm FPGAs. It supports TensorFlow, Pytorch, Caffe, Spark, FFmpeg, and mxnet frameworks on top of Vitis and Vivado development tools. Versal Premium is designed so the hardware developer can still create custom RTL, hardware IP, and accelerated libraries, adaptable engines, while software developers can use Xilinx Vitis. Data scientists can use any of the familiar frameworks.
"The Versal Premium series takes ACAPs to the next level delivering breakthrough networked hard IP integration enabling the development of single-chip 400G and 800G solutions," said Kirk Saban, Vice President of Product and Platform Marketing at Xilinx. "Targeting next-generation networks and cloud deployments, Versal Premium delivers superior bandwidth and compute density in a scalable platform that is readily programmable by hardware and software developers alike for optimized acceleration and reduced TCO."
Some of the use case scenarios include smart network management where Versal Premium accelerator can use AI to analyze network and find an alternative path and potentially save some bandwidth. The process described as AI for network automation anomaly, and it will even help in the self-learning in the network self-provisioning for maximizing uptime (MLP) and auto-detection and -correction of performance bottlenecks.
Versal Premium scores four times the bandwidth of Virtex UltraScale+ (VU13P) as it is capable of 2400 Gbit/s bandwidth, versus 600 Gbps with Virtex. If you compared Versal Premium to ASSPs Application-specific standard parts from Microsemi PM6010 DIGI-G5 scores 1200 Gbps (half of Versal Premium) while PM5990 DIGI-G4 scores 400 Gbps or 50 percent less than the current generation Virtex UltraScale+ (VU13P).
Another aspect of Versal Premium is a 60 percent lower power for 800G data center interconnect line card within 60W TDP. With current 2x 16nm Virtex UltraScale+ FPGA cards the TDP would skyrocket to 200W+, making it undeployable right now. Versal Premium also enables two times rack density.
When it comes to workload, Versal Premium will find use in security, financial, Genomic, Video, Data Analytic, AI, and ML workloads on a specific IPs and accelerators. On-chip memory bandwidth promises 123 TB/s while Tesla V100 3 has 14 TB/s bandwidth leaving Versal Premium as a clear winner in bandwidth-intensive applications.
4.6X faster than Tesla V100, 65X than CPU in AI
Heterogeneous Engines + Memory Bandwidth Deliver Breakthrough Performance for Diverse Workloads including 1.6 times faster than Tesla V100 (2.3 times faster than Tesla T4) in Object Detection ResnNet50 (224×224), 4.6 times faster than Tesla V100 in Object Detection Yolov2 (608×608) and 2.3 times faster than Tesla T4 and 65 times faster than a CPU in anomaly detection random forest.
Instead of 200,000 LTUs (adaptable engines) used in Virtex UltraScale+ VU9P used for infrastructure. The new Versal Premium is using zero. PCIe+DMA, Processor subsystem memory controller, and NoC are hardened. Integrated Shell enables more Logic for acceleration.
7nm PCIe 5 800G support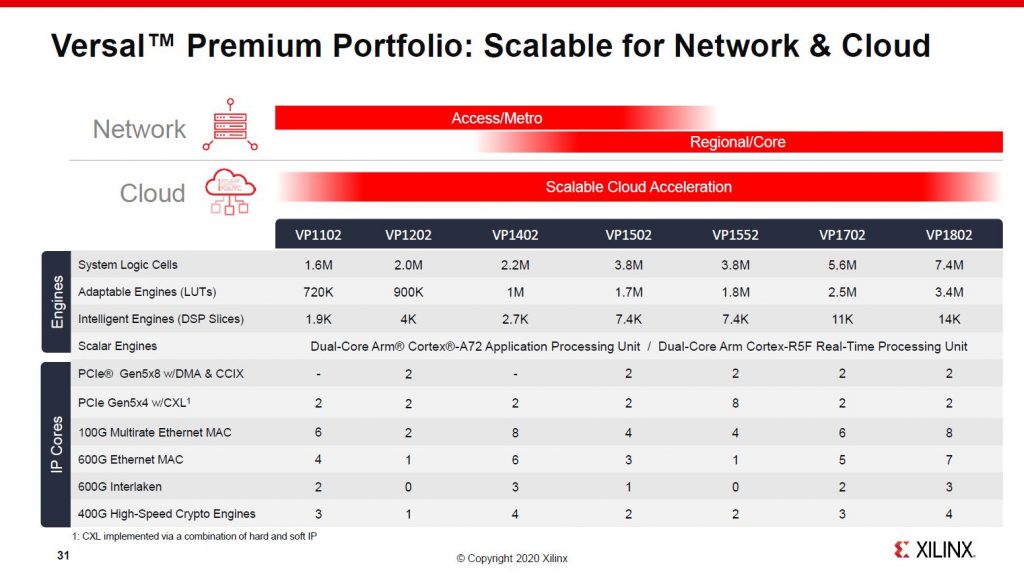 There are currently seven different SKUs where the top of the line VP1802 includes 7.4 million system logic cells, 3.3 million adaptable engines LUTs, 14K Intelligent engines DPS slices, two PCI Gen 5 8W DMA and CCIX, two PCIe Gen5x4, eight 100G Multirate ethernet MAC, seven 600 G Ethernet MAC, tree 600G Interlaken, and four 400GHigh speed crypto engines. One can easily tell that such an adaptable accelerator card can handle all what a future 5G network can throw at it including 8K videos, 360 degrees VR, anything yon can possible imagine even streaming a Super Bowl from thousands of clients simultaneously in 4K or higher.
Customers can start now as documents and tools will be available in 2H 2020, the goal is to start prototyping with Versal Premium , the goal is to start prototyping with Versal Premium. Silicon is expected to ship in the first half of 2021. With 3X highest bandwidth including 9Tb/s Serial bandwidth, 5Tb/s of integrated Ethernet throughput and 1.6Tb/s of line-rate encryption for a secure network, plus the two times compute density, Versal Premium looks like a perfect adaptable accelerator for the future core networks.