Analysis: Takes two years to transition
Apple has finally announced the beginning of a two-year transition towards its own silicon. The first systems based on Apple silicon will be shipping later this year.
The move is barely any surprise for anyone as it was evident years ago that Apple has an aspiration to lock down further its ecosystem and transition to its SoC beyond phones and iPads. Silicon, such as A12X and A12Z, gave us a good idea where things will go with Apple's new laptop silicon aspiration.
At the WWDC earlier this week, Apple announced a developer transitioning kit model number A2330 and consists of an A12Z processor, 16 GB RAM, 512 GB storage drive, and a variety of common I/O ports (USB-C, USB-A, HDMI 2.0, and Gigabit Ethernet) in a Mac Mini case. Software developers can get one for $499 if select by apple to quality and start working on native ARM-based desktop applications today. Nick did a bit more detailed article about it.
Later this year, it is expected to see real laptops based on ARM-based Apple Silicon, but Apple has assured the market that there are still exciting Intel-based machines to launch in the next few months.
What Apple chose to show today was the A12Z SoC based developer platform, the SoC that it has already launched and used before. The A13x (A13Z ) is most likely the next one powerful enough to power the future MacBook.Have in mind that Apple's next A13X SoC is most likely manufactured on 5nm TSMC geometry.
Remember, the two year period is how long it will take to push Intel entirely out of the roadmap.
Apple benefits
Apple gets to make its own in-house silicon tailored for its operating system. It can get a bit faster performance and design specific gates, blocks, and pathways to serve Apple's needs. Using Intel is generally a compromise as it means that the operating system has to adjust to processor generally designed to fit everyone's needs. Now Apple can design what it needs, and it sure has expertise in-house that can help. iPad is just a keyboardless laptop for the most part, and ironically it does sell with a keyboard that can make an iPad into a laptop.
Now Intel creates 9W, 15W, and 45W laptop parts and desktop Xeon W-3265M with 24 cores, 48 threads, and 205W TDP. The Xeon is the one we don't see as something Intel can easily replace, while Apple should be capable of replacing the laptop parts within two years. It will most likely start with lower TDP parts and grow into higher TDP parts, putting more cores, higher clocks, and more GPU power to fits the needs of MacBook 16.
Long term, it will work well, but the transitioning period will be painful as there will be some inconsistency in powering countless numbers of X86 to Apple-ARM architecture. Emulators will help, but they often provide a degraded experience.
Professionals using audio and video tools from Adobe will be fine. This will all work well, and so will Microsoft's Office tool, but the smaller publishers and developers might not have the will or work power to rewrite its code to fit the future macs. The issue will be solved with time, just as it was a decade and a half ago when Apple went from PowerPC to Intel's X86.
Intel without Apple
Financial analysts were focusing on the potential three million of revenue that Apple was generating for Intel. It won't go unnoticed, but it will create a big deal either. Apple for Intel was always a Frenemy. Anyone that ever worked with Apple didn't like it, was pushed around, and even got to court. Just ask Qualcomm.
Apple's 10nm notebook parts and upcoming Tiger Lake platform mark the era of Intel's come back. Ice lake was a huge step forward for Intel but Tiger Lake with better graphics. It won't be surprising to see Tiger Lake-based Apple products either.
Intel's focus on the mobile market is literally everyone else but Apple. Every big and small OEM is using Intel for the majority of its systems, and this won't change anytime soon. There will be some designs that AMD will win with its returning to a decent mobile computing performance market, but the majority, especially high-end designs, will stay with Intel.
Ryan Shrout from Intel showed that Battlefield V in thin, lite, and compact form factor playing Battlefield V, all settings at high at 1080p 30FPS. Tiger lake 2.2 (1KG) 13-inch and alike laptops will give you an ability to play some extremely demanding games on the next generation laptop for the OEM of your choosing.Ryan Shrout✔@ryanshrout
Perks of the job! Took a prototype Tiger Lake system for a spin on Battlefield V to stretch its legs. Impressive thin and light gaming perf with Xe graphics! Early drivers/sw, but it's the first time I've seen this game run like this on integrated gfx. More later this year!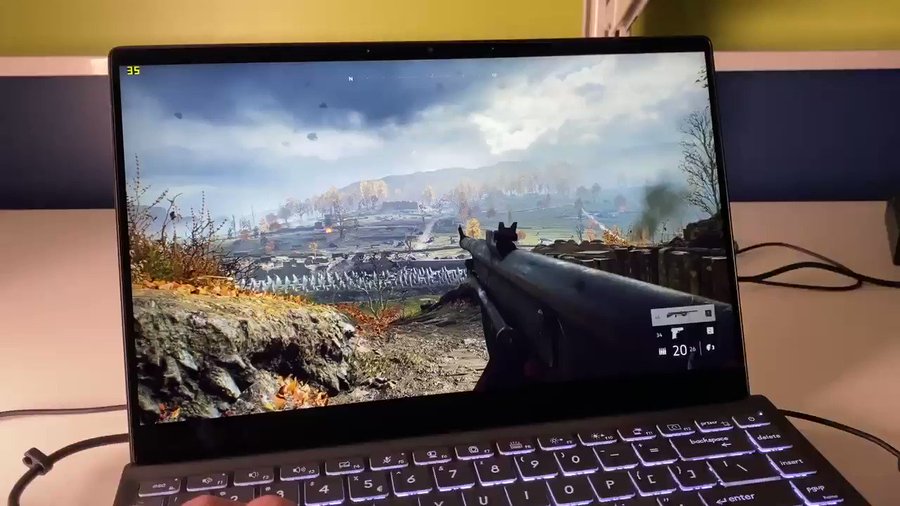 813Twitter Ads information and privacy291 people are talking about this
Apple was never and probably will never become a serious gaming alternative, but it is more like a fashion statement for its users who are just drugged into this ecosystem. It is a vicious circle that it is extremely hard to leave.
Tiger lake and Intel's future
Tiger Lake should get the AI performance up and enable new use case scenarios too, but Intel will take about this a bit closer to the launch.
Desktop platforms, especially the Alder lake, look very promising with the unequal cores that can target different workloads, and the server is where Intel will continue to thrive.
AMD will get some of the action, but the majority of 95 percent of the server market, will stay with Intel. Intel has edge computing and 5G as a growth opportunity.
One especially interesting aspect of Apple and Intel cooperation are the profit margins. Apple was squeezing every penny out of that deal for merely having this high volume and particular position. The strategy won't be missed at Intel, that is for sure. Intel's recent departure from the 5G SoC market and selling what is left of to Apple was just another turn point where intel management realized that it needs to spend the time on cure business instead of something that might become profitable in years.
Recently announced Lakefield is the step in the right direction for Intel, and there will be more innovative packaging, mix core design, and flexible IP that moves across geometries in the time to come.
Apple will still end up buying loads of servers from Intel for the years to come.