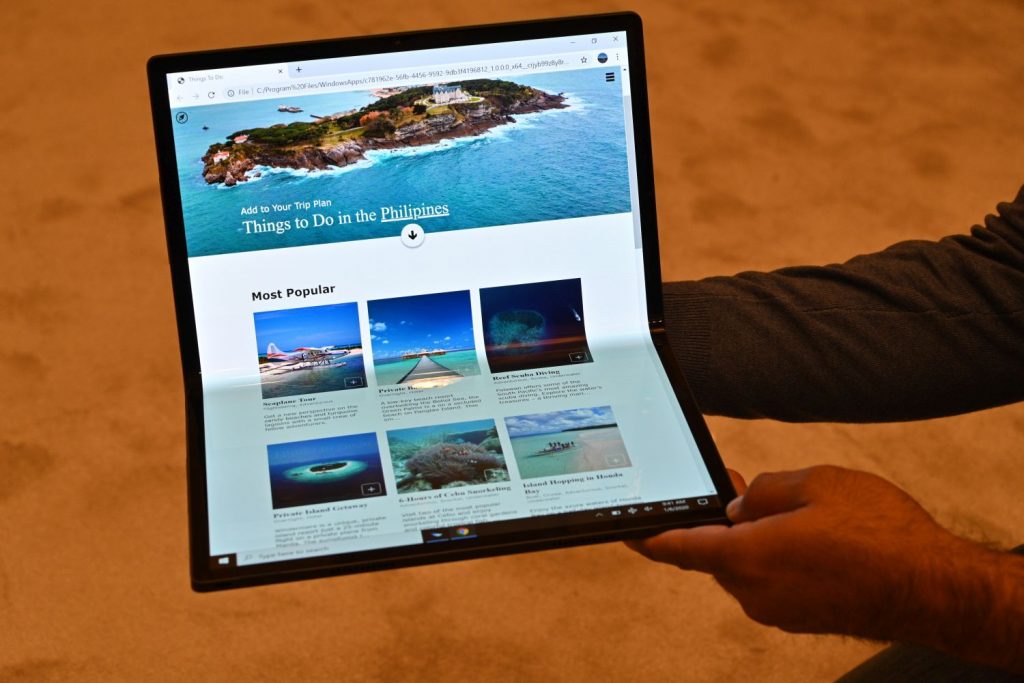 A part of the Intel's CES 2020 keynote
Intel has showcased a concept PC codenamed Horseshoe Bend, and this is giving you an example of the future of the ultra-portable high-end PCs. Lenovo X1 Fold and Dell concept ORI already showcased their version of the concept, but Intel shared a bit of detail.
During the Intel press conference at CES 2020, Intel Executive Vice President Gregory Bryant previewed Intel's newest 2 in 1 concept device with a foldable OLED display code-named "Horseshoe Bend."
The design of a notebook similar to the 12-inch laptop can fold to a full17.3-inch foldable OLED PC. A Tiger Lake mobile Core processor powers the device, and it showcased what will become a future of notebooks.
Lenovo promises its foldable PC for mid-2020.
Intel's prototype is designed for various user experiences as the machine can serve as a laptop, all-in-one, lay-flat, canvas, or book. It has a detachable keyboard that fits seamlessly into the device when folded for easy transport. All a sudden a small 12 / 13-inch laptop can serve as a great all-in-one 17+ inch screen and we would not be surprised to see even bigger versions in the future.
Tiger Lake 10+ nm
Tiger Lake is in the heart of the machine, and this is a 10nm+ new core with new Xe Gen 12 graphics. Tiger Lake promises significant performance improvement over Gen 10 Intel Core generations, and it is expected later this year.
Lenovo machine is launching with Windows 10 and Lenovo's dual-screen optimized software on top. It will launch with Lakefield processor, the one announced at CES 2019. Lakefield is Intel's first Core 10nm/ Tremont four core Atom little core mix.

Lakefield SoC is designed to save power on these new foldable notebooks, but Lakefield will come with a Gen 11 graphics but will ship with one Willow Core 10nm core and four Tremont. When we chatted with Stephen Robinson Intel's Tremont Chief Architect in October 2019, we learned that these cores would be 30 to 40 percent faster than the predecessor.    

To avoid confusion, Lakefield is a category of its own, while Tiger Lake is the replacement for Ice Lake that promises significant performance uplift.
Microsoft Windows X
One again, all spotlights are at Microsoft. Just like Qualcomm depended on them to develop ARM version of Windows, Intel and Co. desperately need Windows 10 X, an operating system optimized for two screens. It doesn't matter if the manufacturer goes after two separate screens of one foldable, the principle will be the same. There has to be a way to command the app to expand over the whole area, pin the app up or down. An operating system optimized for dual-screen is coming with Windows 10 X but more likely toward the end of the year when Microsoft intrudes its own foldable Surface Neo.  One should read this as the second half of 2020 towards the holiday season.
There is a video of the machine below.
https://vimeo.com/intelpr/review/383103233/73330c4a00
Qualcomm has the potential to quickly embrace the Windows 10 X foldable market due to its extremely low power and area. For now, the company is focusing on 5G. It is useful when one is coming from a mobile phone area where the motherboards and processors have to consume breadcrumbs and space plays a crucial role.
AMD misses the first wave
Now to AMD, a rising star for Wall street and all the magazines. Where it is irresponsible to deny the success in the desktop upgrade market and partially in the server, AMD is still years behind Intel in consumer or enterprise mobile.
The launch of Ryzen 4000 in both U, H and PRO is an important first step and will kick things off the ground. There is a Lenovo and Dell machine here and there as AMD promises 100+ designs before the end of the year, but no one is launching a flagship design based on AMD. The situation didn't really change since March 2018 when we posted the original article, but in early 2020 things are looking much better with Zen 2 mobile and 7nm 15W /45W CPUs.
AMD focuses on the thinnest and lightest eight-core 25W X86 laptop with Yoga Slim 7 or the "Most powerful 14-inch gaming laptop" with Zephyrus G14 (Marketing department of Asus ROG should be able to come up with a better name than that. ed). Dangerously AMD's Ryzen 4000 H series laptop quotes 10 hours video playback on the battery as gaming will burn the battery in a matter of few hours.
AMD is not ready for foldables yet, but we would not disregard them completely, they are at a good pace of catching up on the other parts of the market and it looks like the notebook is next. Just not with foldables.